The NBA Academy system has provided many players with opportunities that they wouldn't have gotten in previous decades. NBA Global Academy won the prestigious L'Hospitalet tournament against some of the best youth teams in Europe, NBA Academy Africa competed in the The Skill Factory World Prep Invitational and the US National Prep Championship, NBA Academy Latin America also participated in the TSF World Prep Invitational, and NBA Academy India competed in the European Youth Basketball League (EYBL).
Since these players had that level of exposure, it's not surprising that many NBA Academy players received scholarships or professional contracts for the 20-21 season. Joshua Giddey and Mojave King signed in the Australian NBL, Aly Khalifa, Bennedict Mathurin, Olivier-Maxence Prosper, Malik Wade and Nelly Joseph received scholarships to D1-schools, and Princepal Singh signed with the new NBA G-League Ignite team, where he'll team up with projected Top-10 picks Jalen Green and Jonathan Kuminga. Singh is the first NBA Academy India graduate to sign a professional contract, but he will surely not be the last, as multiple other Indian prospects showed their talent during the shortened EYBL season. In this article, I will highlight the two NBA Academy India prospects who caught my eye most during EYBL play.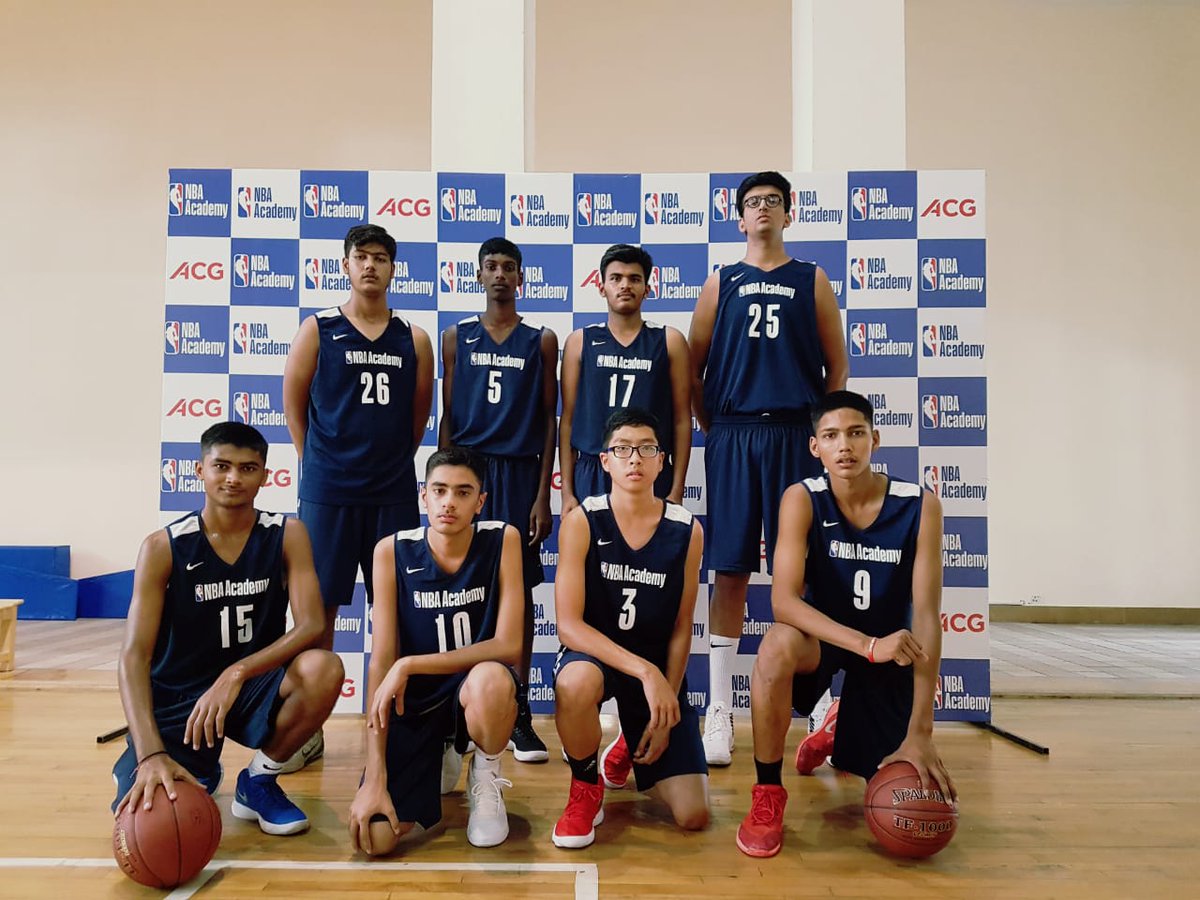 Pranav Prince
Height (without shoes): 6'6″ | Wingspan: 6'10.5" | Birth Year: 2003 | High School Class: 2021 | Nationality: India | Shooting Hand: Right
During the 19-20 EYBL season, Pranav Prince was arguably NBA Academy India's best player on both ends. His performance clearly left an impression on scouts and coaches as well, as he recently received a scholarship to attend First Love Christian Academy in Washington, Pennsylvania for what, as far as I can tell, will be his senior year of high school. Prince still has a lot to learn, but his physical tools combined with tremendous on-court flashes make him a promising prospect.
Defensively, Prince excels especially as a weakside help defender. He mostly makes correct rotations and uses his +4.5 wingspan to deter shots at the rim. He occasionally loses a cutter backdoor or unsuccessfully gambles for a steal, but compared to other players his age, these moments of weakness are relatively infrequent. When closing out to shooters, he often successfully uses the "choppy-steps"-closeout technique to stay on balance and thereby contain penetration. It helps that, due to his long arms, he doesn't have to have to close out too hard on a shooter to make an effective contest. Additionally, he's also a capable chasedown shot blocker. Two of EYBL's most impressive blocks of the season were chasedowns by Prince, where he build up impressive speed in the open court and came from behind to block unsuspecting opponents.
On the perimeter, he displays decent foot speed and understanding of how to use his body to contain penetration. Measured at 150 pounds at the 2019 Academy Games, he does, however, not have much to put in the opponent's way, so it can happen that slashers slip by him due to his slight build. And while he wasn't challenged a lot by stronger players during his EYBL campaign, you'd have to assume that he'd struggle containing bigger and stronger players. When he can stay with his man and shadow him to the rim, he does a great job contesting shots without fouling (2.1 fouls per game in almost 34 minutes during EYBL play) and makes a great impact with his length.
Offensively, Prince is primarily a slasher. He's not a particularly explosive athlete and his handle is relatively basic as well – he can handle the ball comfortably with either hand but doesn't show any moves besides flashes of an in-and-out – but he still gets by his defenders quite regularly, because he's a very fluid, coordinated athlete for his size and because his frame allows him to slip by defenders and through tight spaces. As a finisher, he's already quite decent, but also still has room to improve. He's currently limited to finishing with his right hand and struggles finishing through contact, but he already shows some awesome flashes. He can lose defenders with his long strides, body fakes or with Euro steps and he even has his moments where he takes contact well and makes an impressive layup, even if the contact finishing is not a consistent part of his game yet. He's also had eye-catching moments as an instinctive cutter, reading the defense well and thereby creating scoring opportunities for his team.
Additionally, he frequently punishes help defense with lay-offs to the dunker spot or kick-outs/skips to the three-point line. His passing vision is pretty good, but the execution isn't always perfect – he averaged almost two turnovers per assist during EYBL play. Still, the fact that he's already making these plays with decent regularity at a young age is a promising sign for Prince. If he wants to consistently make these plays at the next level, however, he'll need to give defenses a reason to guard him on the perimeter. In EYBL, he only shot 2-18 (11.1%) from three, but he at least displayed a workable shooting form.
His most impressive offensive skill, however, has to be his rebounding. He averaged four offensive rebounds a game during EYBL play, and while these numbers are inflated by the fact that seemingly no one in EYBL boxes out – approximately 40% of Prince's offensive rebounds came on free throws – he consistently grabbed highly impressive rebounds. He often shows great anticipation tracking down long rebounds and uses his long arms really well to tip the ball away from opponents. In that part of the game, he's reminiscent of 2020 Draft prospect Nate Hinton, who averaged 2.7 offensive rebounds (8.7 total) in D1 play as a 6'5″ guard.
Prince's move to a US high school is a big step towards his goal of earning a D1-scholarship and from what I've seen of him, that goal should easily be within the realms of possibility. Because even though Prince's skills still need to be polished a lot, the combination of ball skills and physical tools should be intriguing enough for some D1 schools to recruit him.
Harsh Dagar
Height (without shoes): 6'2″ | Wingspan: 6'6.5" | Birth Year: 2005 | High School Class: 2023 | Nationality: India | Shooting Hand: Right
Despite being 14-years old at the time, Harsh Dagar averaged over 30 MPG during the 2019-20 EYBL season, second-most on NBA Academy India. He's too young for a full evaluation, but given how talented he is, coaches, fans and scouts should get to know him as soon as possible. In India, his talent is no secret; after all, Dagar was part of the Indian senior national team, which won the gold medal at the 2019 South Asian Games in Nepal. 14-years old and playing alongside some regular members of the senior national team. Crazy.
Dagar was not a standout player of the EYBL season, which should come to no surprise considering he was 3-4 years younger than many of his opponents. Still, he was able to show off some decent skills, mainly the three-point shot, decent passing ability and some good defensive flashes as well. During the eight EYBL games, he shot 8-26 (30.8%) from three and displayed solid shooting mechanics, which are already remarkably consistent for his age. The only major point of critique concerns his shooting elbow, which sticks out to the side on his shot. If he instead tucked it in right next to his rib cage, it would allow him to really get his hand under the ball and therefore shoot a softer shot with better arc. Considering this room for improvement, his potential as a shooter seems to be quite high.
In addition to the shooting, Dagar also showed promise as a playmaker. He handles the ball with great patience and already consistently finds open shooters with timely kick-outs. He also shows flashes of right-handed live-dribble passing, especially baseline kick-outs to shooters in the corner. As he keeps improving, he'll undoubtedly refine his passing skills even further and presumably also add more variety to his passing game. But being a good passer is worth so little if you can't consistently create passing windows. The question will therefore be whether Dagar can improve his advantage creation skills to the point where he consistently draws help defense and creates openings for teammates. His handle is currently good enough that he can dribble in traffic with either hand without constantly getting his pocket picked, but he doesn't have any particularly deceptive moves or advanced dribble combinations in his arsenal yet. His first step was also not good enough to create advantage in EYBL, but that has to be expected since most of Dagar's opponents were much more physically developed than he is. At the jr. NBA Global Championship, where he had the chance to play against his peers, he looked quite explosive, so it'll be interesting to see if his body develops to the point where he can also blow by adults when he gets older.
Even if these advantage creation skills never materialize, he could turn into a valuable player by reaching his shooting potential. If opponents had to run hard closeouts on him, he would generate many opportunities to make plays against these closeouts. Given the playmaking capacities he's already displayed, he could do some damage in these situations. In addition to the offensive potential, he showed some defensive flashes as well, applying constant ball pressure against like-sized players and proving especially adept at maneuvering screens. He wasn't capable of protecting the rim due to very limited vertical pop, but made good rotations and impactful shot contests because he, like Prince, has a +4.5 wingspan. Dagar has already stated that his goal is to get a D1-scholarship and while he's not a must-recruit-right-now-type, D1 schools should definitely monitor his progress over the next couple of years.