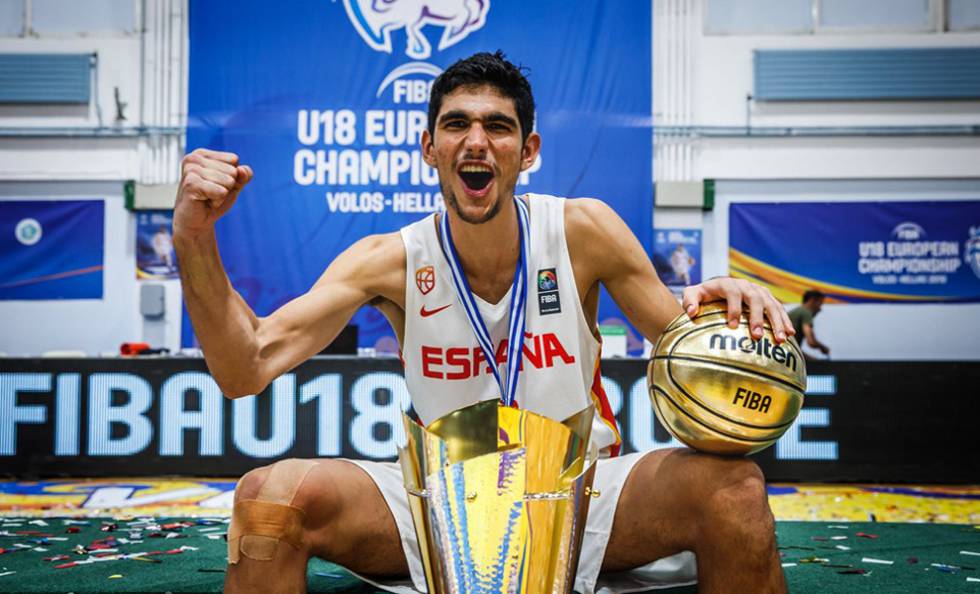 Santiago Aldama earned the MVP award at the 2019 U18 European Championship. This year, Aldama played his freshman season at Loyola University Maryland, where he averaged 15.3 points and 7.6 rebounds in 10 appearances after returning from a knee injury.
Background
Santiago Aldama is the son of María Isabel Toledo Jimenez and Santiago Aldama Alesón. His father was a professional basketball player in Spain and Portugal and a longtime member of the Spanish National Team, who played in the 1992 Olympics in Barcelona for Spain. His uncle, Santiago Toledo, was a professional basketball player, as well, in Spain, Italy, and Portugal. Santi started playing basketball at the age of three because his uncle and father inspired him. Aldama looked at the game as a hobby until the age of 15–16 but later realized that he could become professional. Born in Las Palmas, he met people from different cultures during the summers there. Before signing at Loyola, the Spanish player received offers from notable teams in the NCAA. But the culture, technical team and team environment at Loyola attracted him. Santi loves to play PlayStation in his free time. He played tennis when he was 6–7 years old, but is now only a fan. Santiago's favorite tennis player is Rafael Nadal, of course. His favorite movie is Forrest Gump. His favorite TV series is Money Heist.
Physical
Standing at 6-foot-11 with a 7-foot-1 wingspan and a skinny 215-pound frame, Santiago Aldama has good length for a power forward (Appears as a C on some sites, but plays at the PF most of the times) but needs to add weight and strength to battle on a regular basis against all level bigs. I think Aldama's upper body strength isn't developed. Shoulders are wide but lack of strength hurts him in the painted area. His arms are long but lacks power there too, he has to improve that, especially to be more comfortable when shooting. Strength in his lower body is better. Aldama can transfer the energy from his lower body to his upper body well, thus accelerating his shooting mechanism.
He is not a consistent shooter yet. However, showed some flashes as a CnS shooter. pic.twitter.com/94Oh3FGaCD

— Kuzey Kılıç (@Kuzeykg) July 24, 2020
Displaying a budding skill level, Santi Aldama has a smooth athleticism package. His mobility, vertical pop, length, and average BBIQ allow him to be a good fluid athlete. He can finish around the basket against two or three defenders, and make up for his lack of strength, thanks to those things. Aldama is not an explosive athlete, but showed some flashes last summer in his games against Turkey, Russia, and Netherlands. While he's not a highlight dunker, he shows flashes of finishing strong at the rim against all positions despite his inconsistency in this area due to his lack of strength. He usually plays on the perimeter.
I think Santiago Aldama is a "sleeper pick". About MVP of 2019 U18 European Championship.

My favourite thing about his, athleticism. I think Aldama is not an explosive athlete, 6-11 Spanish F is a smooth athlete.

Look at his first step and burst. pic.twitter.com/WR1McOkRFc

— Kuzey Kılıç (@Kuzeykg) July 24, 2020
Offense
A talented, cold-blooded player, Santi Aldama's offensive role revolves around his jump shots and cut plays. He's a great cutter (slips, backdoor cuts) showing amazing offensive awareness. Aldama knows how to space the floor, finishes smartly with good touch, pretty impressive body control, strong first step, and aggressively above the rim. Especially when Aldama used the screens from the left-wing and right corner, he made almost no mistakes as a cutter. Santi, who has a good burst for his position, can do impressive footwork tricks to rule out the player defending him during off-ball motions. He does not have elite lateral movement while doing this but can be effective due to his BBIQ, timing and coordination. A capable shooter, Aldama is very dangerous in catch-and-shoot situations. He can't create his shots outside (can create around the perimeter) but in catch-and-shoot, Santi is a hot shooter. After a finger injury after the 2019 FIBA ​​U18 European Championships, he didn't perform well in his first season at Loyola, in terms of shooting, but Santi has done well in the past two years. I think he has really fluid shooting mechanics for someone that is 6-foot-11.
His mechanic looking good. I think arc and footwork are good. But there is a problem with timing and last touch. pic.twitter.com/xsBY7OBBrp

— Kuzey Kılıç (@Kuzeykg) July 24, 2020
The release and his mechanics, which caused his opponents to commit fouls 15 times last summer, is high. However, the interesting thing is that he is an excellent shooter only in the top and right corner zones. He's not using a lot of shots from the left corner, his wings shot is bad. I think lack of strength hurt him here. Power is paramount when shooting from the wings, it is very important to give momentum to the ball. He mainly relies on his left channel dribble to set up driving offense. He can dribble open court and half-court but Aldama is not very efficient at using the right channels well. Aldama can score in the post, showing nice spin moves and hooks. He needs to be more confident dribbling the ball which will allow him to improve his face up game, He is not a good transition, PnR handler and roller guy. His arsenal isn't deep, he is not a player who can make crafty assists or has shifty handling skills, just a reliable handler with average court vision but I think he doesn't need those things. Because Aldama is good as a cutter in the painted area. He's a good shooter, a threat as a floor-spacer and he is 6-foot-11. So, if he gains weight and adds muscle, he will be a good modern era player.
Defense
I think Santiago Aldama's high BBIQ, pro basketball genes and maturity often make up for his lack of strength and athleticism in man-on-man defensive games. Last summer, Spain played 2–3 zone on defense in four games. While Santi was in that defensive set up, he was often in a role that could put pressure on the right channels and switch the pivot but to be honest, he wasn't very good in that role. He couldn't concentrate on the shooters. In man-to-man defense, Santi is one of the players that the modern era needs. Santi Aldama, who can guard multiple positions thanks to his physical tools, can stay in front of quicker guards and forwards thanks to his lateral movement and eye-hand coordination, can stay in front of bigs thanks to his length and hand positions (up-down movement).
Here is a good example about his vertical pop and game reading: pic.twitter.com/dFVXpYTFS2

— Kuzey Kılıç (@Kuzeykg) July 24, 2020
His mobility and length allow him to be a good perimeter and post defender, who covers pick-and-roll and post up situations average. He also has quick hip turns to help him here. Of course, he cannot defend every position well, he sometimes makes unnecessary help defense, he also occasionally makes timing and position mistakes. Santi Aldama is not a good rim protector, and I don't think he's a player who can run around the screens off-ball motions. Defense discipline is questionable, communication with the team is not good. Sometimes he gets too caught up in his opponent's shot fakes. He's not a defensive playmaker. He has good rebounding instincts, grabbing the ball and running the open court.
Summary
I think Santiago Aldama has a skill-set that is enough for him to play in the NBA because he can play multiple positions on both sides of the court. His arsenal on offense is not very broad but he can be a good role player who comes off the bench and is a threat as a floor-spacer. The most important thing is his physical development process.